About us
Those who tried it before, know that cooking and eating outdoors in the fresh air is an unmatchable experience. Just think of the flavours of food roasted over open fire, dancing on your taste buds!
To watch the fire, to feel its warmth, has always attracted families to gather around it. The family fireplace, the warmth of the home brings nice memories to all of us.
This is why we chose the name La Maison for our business. Because home doesn't only mean a place where the fragrance from Grannie's apple pie baking in the oven wafts around, but also a feeling, of knowing that you are safe.
Who are we?
We are a young, dedicated couple, qualified and experienced chefs, who bring the ancient cooking techniques and styles into our present rushing lifestyle. Be it on a small family gathering, for friends or a street party.
Our aim is to guarantee you a reliable, quality service. Every step of the food preparation, the cooking and the serving is clean & hygienic, disciplined and professional. We at La Maison are proud to have in excess of 10 years' experience in this field, which guarantees peace of mind.
Levente is the head chef, qualified and passionate about his profession. He loves to source the best, finest and local ingredients, preparing the meals with a wide variety of herbs and spices, and the actual cooking.
Betty is qualified and experienced in business studies and hospitality, her part is the organising and the servicing. Our harmonious private relationship allows us to run this business together smoothly.
As your party is unique and special, we at La Maison will do our absolute best to ensure a harmonious and positive outcome for all.
We honour your individual taste and requirements and are happy to create a menu just for you, with professional, friendly advice and deliver you an unforgettable party.
Equally, we make every effort to provide for vegetarians and various cultures' different cuisines.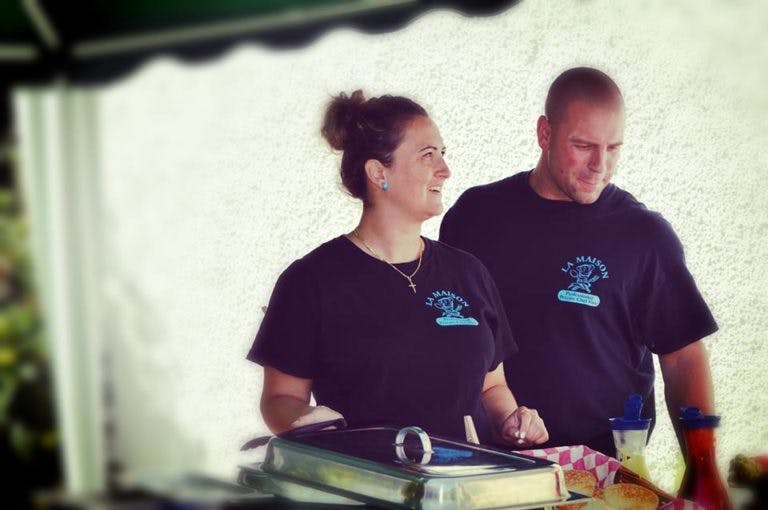 Contact Address
25 The Ridings, Seaford, BN25 3HW
Telephone